A former skincare salesman and his evening relaxation routine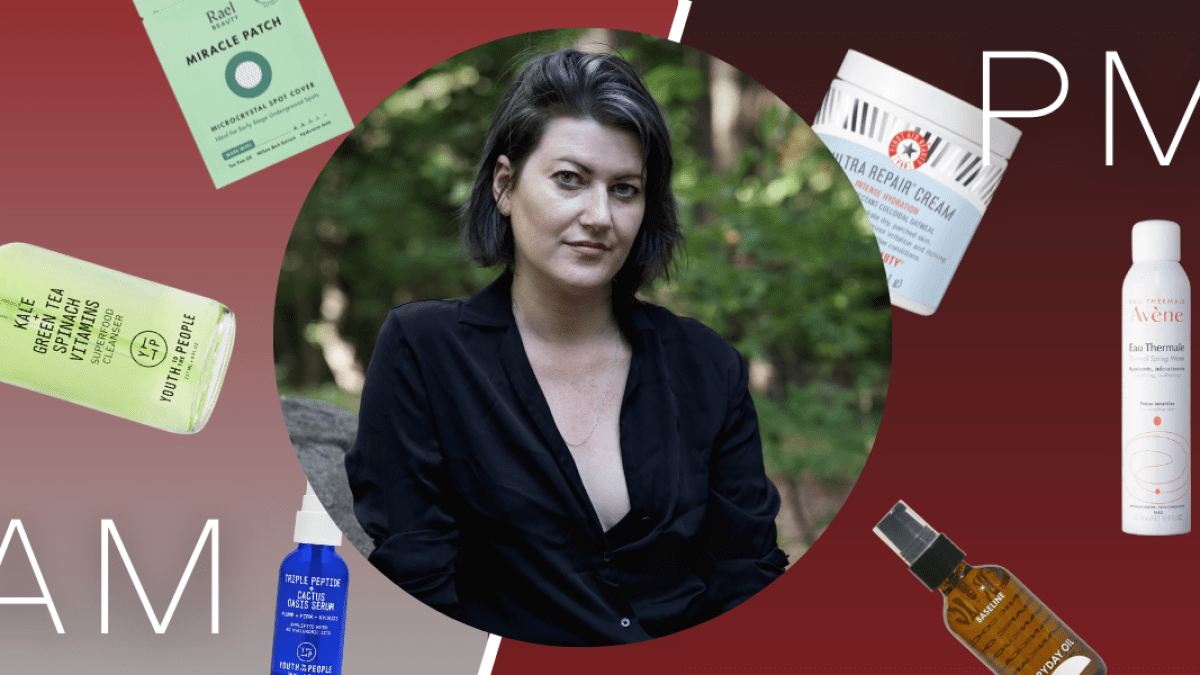 welcome to MORNING AFTERNOONwhere Autostraddle team members break down and share their skincare routines, makeup looks and more!
---
I'm Meg, a 36-year-old queer feminist living in Brooklyn. I'm a photographer, writer, tarot reader, and wizarding author, whose goals include getting as many tattoos as possible, selling more books, and trying to leave the world a better place than I found it. I write mainly about the tarot but I also sometimes share personal essays, TV reviews and sarcastic comments on a variety of topics. I'm also really, really in skin care.

When I was fresh out of college in 2007, with a valuable (lol) BA in Technical Theater from a homophobic Christian college, I landed a job at Sephora as a seasonal cashier. Anyone who has worked the nightmare that is the vacation trade knows that these jobs are usually temporary and rarely come with training, desirable hours, or perks of any kind, but I was hoping to turn that three-month contract into something permanent, ideally in the skincare department. I never reached full-time status, but I managed around 30 hours a week for over three years, before moving to the nearby Lush Cosmetics mall for another year before deciding to quit the business of detail and go back to school.
A big part of my desire to work for these companies was a need for education. When I was growing up, over-the-counter acne treatments were limited to harsh products that wreaked havoc on my dry, sensitive skin. Products like Oxy and Stridex tampons, Sea Breeze astringents, and Neutrogena's signature oil-free acne cleanser irritated my skin and did nothing to help my hormonal cystic acne. I spent most of my teenage years applying heavy foundation in a futile effort to fake smooth, blemish-free skin that rarely looked natural and usually served to make my skin look even more unhappy. Along with getting lots of free samples, working at Sephora was an amazing opportunity to gain some insider knowledge about what my skin needed, and maybe even use that discount to find products that I liked. would finally help me get my dream skin.
What no one told me is that once you're a permanent employee, the brand reps come in several times a week to do training and give out products – and as fun as constantly showering. with free eyeliners and lipsticks from expensive brands, the free skincare was overwhelming. I wanted to try everything, ignoring suggestions from the older, more seasoned skincare veterans at my store and rarely giving individual products enough time to impact my skin before trying another. Instead, I threw anything that might help on my face, blending with abandon and only making my skin worse. Even after leaving Sephora and working at Lush, I still thought using many different products was the answer, eventually falling into a complex and expensive multi-step skincare routine that was nearly impossible to follow and which didn't even bring particularly great results.
Over the past three or four years, I've done a complete reversal, simplifying my routine as much as possible. I have a few old stash products that I discovered during my time at Sephora and Lush, products that I've been using for over a decade and refuse to give up, but I combine them thoughtfully and carefully. with some newcomers. Paying attention to my skin and trying to give it what it needs without complicating things is now my primary goal. I still have hormonal surges, but they're not like they used to be, and I have also found some great options for treating my other skin issues such as rosacea, eczema and keratosis pilaris. My skin will probably never look smooth, poreless, and clear like I dreamed of in high school, but at least now I know how to color match my foundation.

Products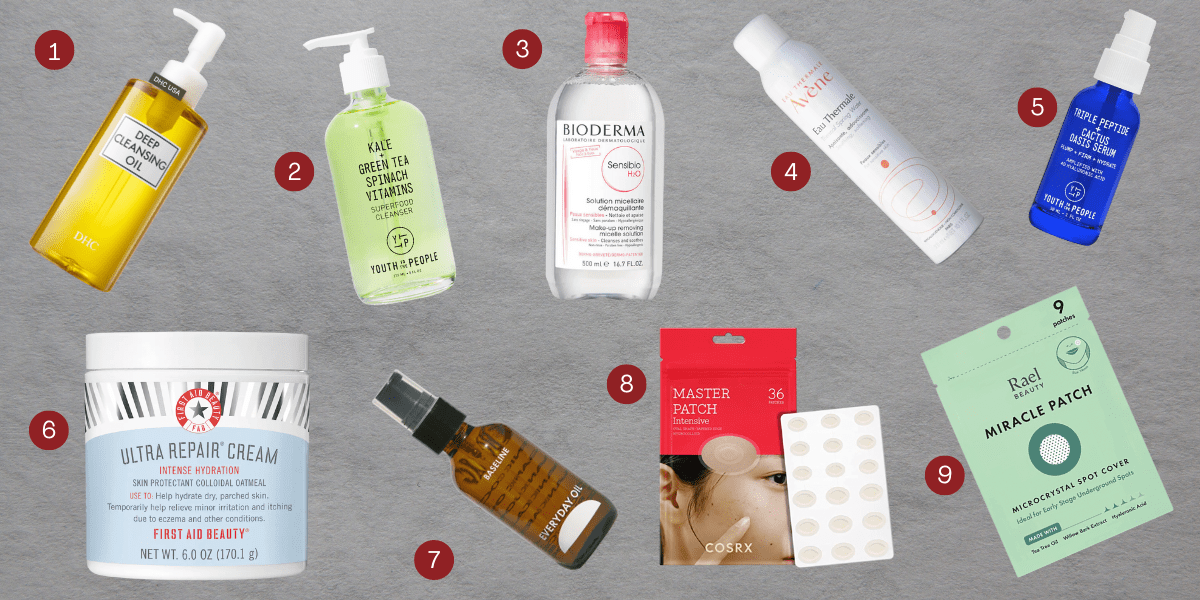 Routine
I exfoliate and play around with different products often during the day, but my evening routine is pretty standard – variations come from whether or not I wear makeup, sunscreen, or exercise.
If I've had an introverted day and haven't left the house, then I probably haven't put on any sunscreen or makeup either, which means I just like to have a quick swipe on my face with micellar water to get rid of any traces of oil, dead skin or sweat accumulated during the day. It's a nice little reminder and soothes any lingering guilt over not doing a thorough cleanse.
However. If I had a big day and I ventured outside, or even (gasp) went to a secondary place besides my apartment, I always put on SPF, and probably also a certain amount of makeup. In this case, I'll do a full double cleanse, starting with my beloved DHC Oil Cleanser to dissolve any product on my face and following it with my Youth to the People Cleanser to wash my skin. Both come in a pump, have no extra fragrance or color added, and leave my skin feeling refreshed without drying out.
After the make-up remover, I take my favorite face mist with Avène mineral water. I'm a sucker for a facial spray, especially in the summer when I like to keep several in the fridge. It's incredibly soothing, and I always have some on hand in the bathroom to help set my makeup.
Every other night, I use a pump or two of Youth to the People Triple Peptide Serum, which keeps my dry skin hydrated and also helps reduce my redness. The serum step is the only part of my routine where I allow myself to experiment. I used to use Sunday Riley's Good Genes but haven't found a suitable substitute since they changed the formulation a few years ago. This serum is my current pick, and although the pump in the bottle often sticks, I like the product itself.
Finally, I grab my absolute wrinkle-or-die skincare product: First Aid Beauty Ultra Repair Cream. I swear by this stuff and have recommended it to everyone from my friends and family to literal strangers on the street. It is hydrating, calming and incredibly gentle. I use it morning and night to soothe, hydrate and comfort my cranky skin. This shit is the best. If my skin is extremely dehydrated, I dab some of my everyday unscented oil on top to really seal in the extra moisture and soothe any irritation.
If I have one or two active pimples, I end the routine with patches. I've used lots of different brands, but my current favorite is these nearly invisible ovals from COSRX, which combine hydrocolloid (to pull out grime) with mild salicylic acid to treat blemishes. For deep, painful cystic blemishes that still pop up from time to time, I take patches with micro crystals or micro darts to help penetrate below the surface and kill bacteria as quickly as possible.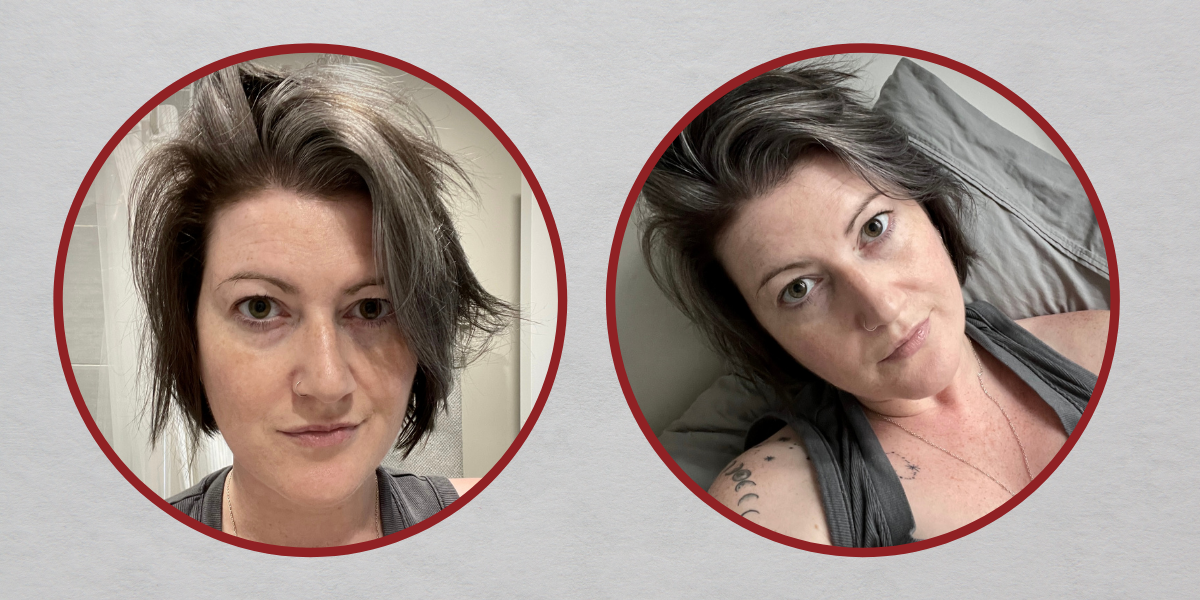 After years of layering product after product and doing tons of research to avoid bad reactions or interactions, it's really empowering to have a handful of products in my medicine cabinet that I can rely on. I'm always looking for a new serum, as I'm not sure if I'll repurchase the one I'm currently using, but I don't mind – I still think there's something there, some ingredient magic, which might work better for me. But overall, my skin is about as happy as it's ever been, and for the first time in years, I'm not buying enough product to keep me within the VIB Rouge level of Sephora. My wallet and my skin are grateful.