Bubble: Gen Z Skincare Juggernaut Shakes Up Teen Beauty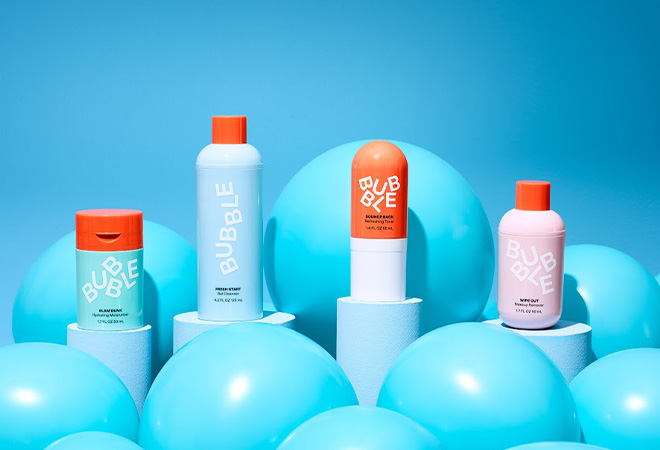 Indie beauty brands are, by nature, challengers, but some founders think bigger than others. Shai Eisenman, representing a new generation of independent beauty founders, is focused on what she is building and very clear on what it will take. With a David and Goliath strategy, Bubble takes on some of the biggest beauty brands.
"Even though young consumers are the most advanced generation that has ever existed, when it comes to skin care, they are using the same old-school products that I used as a teenager and my mother used in childhood. adolescence," Eisenman explained. "80% of Gen Z consumers use Neutrogena, Cetaphil, CeraVe, Clean and Clear and Clinique, the same traditional brands used for generations."
As a performance marketer, Eisenman believes in the power of data and the context that conversations with consumers provide. She spent two years looking for a white space in beauty and landed in the teen segment: "It didn't make sense to us that teens were stuck with options that hadn't evolved in decades and that weren't meeting what they really needed and wanted."
She immersed herself in understanding Generation Z cohort, creating a community of 4,600 teens who participated in every brand development decision. With the insights uncovered, Eisenman set out to seize the opportunity by creating an effective, affordable, value-based, and design-driven brand with a wide enough distribution to disrupt the category and be truly accessible.
When the brand launched DTC, they were shocked to learn that 58% of Gen Zers bought skincare from big box retailers, and only 20% of them bought skincare on line. This data, coupled with the rising cost of online acquisition, has paved the way forward. In less than two years, the brand has rolled out to 9,000 outlets, launching with a Walmart exclusive in 2021, followed by CVS this summer, and recently to 665 Ulta stores. This year, Bubble also moved from Walmart's Trending Now section, created for indie brand launches, to the main skincare aisle, and to Ulta, the brand is marketed in the skincare section. massive. These merchandising moves put Bubble right next to the big beauty brands they set out to disrupt.
Overturning the Beauty Retail Paradigm
The traditional distribution manual has officially gone the way of the dodo. We recently saw Amazon's first brand Release of Hero Cosmetics to Dwight & Church in a $630 million deal after defying industry norms, selling its products from Amazon to Neiman Marcus and Target to Ulta.
In today's hyper-competitive beauty landscape, consumer demand is trumping current distribution relationships as retailers weigh up new brands to launch.
Bubble is following suit with a retail rollout that would have been considered retrograde a few years ago, but each retail partnership has been methodical and carefully thought out. Eisenman shared the thinking behind Bubble's distribution strategy to date. necessary to focus on accessibility. In trying to reinvent a shelf and a category that had so little innovation over the past 30 years, we really wanted to make sure that we brought the products to every home possible in the United States – and Walmart is the absolute perfect partner. , leading the category with 20% of total US personal care purchases and ~200 million weekly visitors."
CVS was the next step. Eisenman said, "In launching our acne line and our new over-the-counter product, Super Clear, we were so excited to focus on the clinical side, partner with CVS (4,100 doors) and reinvent the shelf in the acne section of the best drugstore retailer. in the country.
Recently, Bubble partnered with specialty beauty retail destination Ulta Beauty. Eisenman shared, "42% of Gen Zers explore beauty products at Ulta, and it's the number one beauty destination in the country for our consumer. The Ulta consumer is someone who is looking for new products, wants to try new things – a true beauty enthusiast. Ulta as a brand has so many synergies with Bubble, and we're thrilled to partner with them on this journey."
This tectonic shift in distribution reflects the shift to an omnichannel world where the consumer is at the center of all decisions. Success requires a brand to be present when and where the consumer wants to search, experience and buy.
Fuel rapid growth
There's a VC-backed formula today that allows indie beauty brands to scale faster than ever before, but the big box retail launch isn't for the faint of heart – the scale is undoubtedly larger, but the channel is also operationally and capital intensive. Like many of today's hottest brands, Bubble is backed by venture capital, but unlike many founders, Eisenman does not market funding rounds or believe the amount of money raised is correlated with the success of a business.
"We don't disclose our funding amounts, but we work closely with our advisors and large investors to leverage capital very efficiently and focus on building a long-term, sustainable brand that can survive headwinds." , Eisenman explained. from our investors and advisory board, such as Jyothi Rao [formerly CEO of Intermix]Dor Sela [formerly at P&G]and Sandra Campos [former CEO of DVF] is immeasurable in continuing to grow our business in a sustainable way for the long term."
Navigating the operational nuances of three of the largest beauty retailers in the US market requires capital, an experienced team and an investment in operational infrastructure. As a beauty industry outsider, Eisenman assembled a team of veterans with decades of experience who were well versed in product development, operations and retail marketing.
"We started as a very small team and grew to 30 employees with a strong focus on our retail, creative, operations and marketing teams. We have an amazing retail and operations team with extensive beauty experience, which was the absolute key to being able to go from a DTC exclusive brand to 9,000 doors in 22 months."
She continued, "The team is really at the heart of everything we do here at Bubble, and I wholeheartedly credit our success to them, and I'm so grateful to learn from each of them every day."