FIT Cosmetics & Fragrance Marketing & Management Capstone Research 2022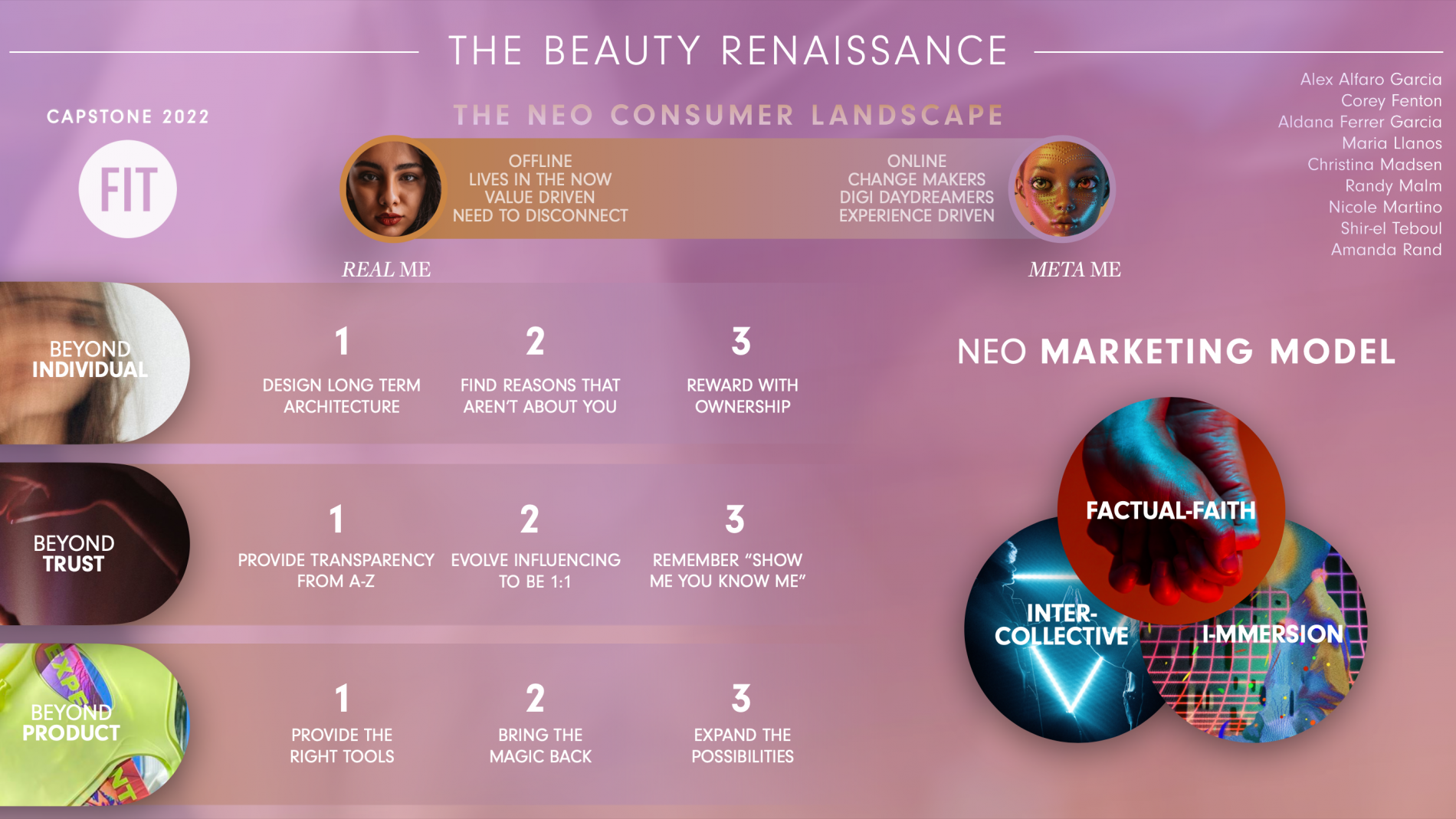 FIT's Esteemed Beauty Think Tank Offers Breakthrough Insights
On the sustainability of the beauty industry after the pandemic
FIT Cosmetics & Fragrance Marketing & Management Capstone Research 2022
Beauty After Covid-19: Beauty's Reformation and Renaissance, a two-part global study by the Fashion Institute of Technology's "Beauty Think Tank", examines the paradigm shift within the beauty industry since the pandemic, with the need to adapt to both consumer and employee expectations. The class of 2022 focused on research on two critical topics: (1) how beauty organizations can reform internal behaviors to unlock their full potential, execute more dynamic strategies, and thrive in the "new age" of industry. (2) how emotional tensions and technological advancements have converged to catalyze the rebirth and realignment of the beauty consumer. Together, the cohort conducted in-depth analysis comprising quantitative and qualitative research including over 900 respondents, global fieldwork, and interviews with top beauty executives and market experts across the globe.
CFMM Market Opportunity #1: Beauty Reform
Historically, the Reformation period was an intellectual upsurge, which challenged the motives of authority – to help society break free from structure. Today, the Great Resignation, an unprecedented mass outflow of the workforce caused by COVID-19, has left the industry reassessing its ways of working.
Threats to organizations: A large part of the way we work has remained unchanged since the installation of the 5-day work week in 1926. Today, Covid-19 has brought four critical, but overlooked, challenges to beauty companies and their employees:
Complexity. 53% of industry professionals agree that structure and policies often stifle agility and experimentation.
Burnout. 80% of industry professionals surveyed agree that a five-day work week is an outdated model.
Turnover. 26% of employees say they only plan to stay with their employer for between 0 and 2 years.
Rigidity. 71% would look for another job if they couldn't work from home. (results from FIT Workplace Survey, 2022)
The CIRCLE approach: The excessive prioritization of two key stakeholders: consumers and investors, hampers the potential of the industry. After extensive research into working methods within the beauty industry, FIT's Beauty Think Tank recommends beauty organizations to come full circle, with the creation of their CIRCLE model. The model is a network, developed with the intention of the beauty industry forming, growing and working together as a whole. Considering four other areas of importance, beauty organizations can better manage post-COVID threats using these innovative tactics:
Resources: by creating a Chief Agility Officer (CAO) position, by building a Central Artificial Intelligence (CAI) hub and by creating a pool of flexible freelancers
Culture: defining the organizational and personal goal, feeding DE&I and providing time flexibility
Leadership: by setting up an adaptive "hierarchy", by being actors of the change of mentality and by reimagining retention
Environment: by appealing to new employee needs, leveraging the metaverse and embracing fluidity
CFMM Market Opportunity #2: Renaissance Beauty
During the Renaissance, society emerged from the Dark Ages to make outstanding innovations in arts, architecture, society, and culture. Today, we see a similar emergence emerging from the obscurity of the COVID-19 era and draw parallels with the beauty consumer.
Covid has changed beauty consumers forever: Boundaries are blurring between the physical and digital worlds and beauty consumers are faced with a complex reality with limitless ways to interact with brands. Despite the excitement around technological advances and innovation, there is a deep sense of anxiety caused by the rapid acceleration of society and technology. The consumer research conducted by the cohort revealed four key insights into the post-COVID beauty consumer:
Restless and stagnant. In the 18-29 age group, 62% of respondents reported having feelings of restlessness and low energy.
New ways to bond. 57% of consumers said they have changed the way they find and interact with new people since the start of the pandemic.
Consumers don't trust brands. 66% of survey respondents showed fear or distrust of companies or brands that acquire and hold their data.
Tech-acceptance is on the horizon. For phygital innovations that bridge the digital-physical divide, such as virtual trials, the gap between awareness and interest is only 11%. (results from FIT CFMM consumer survey2022)
The neo-consumer and going beyond: With the evolution of the post-COVID beauty consumer, and given their anxieties, beauty brands must transcend what was. In order to future-proof their businesses, companies need to go beyond the current strategy and build deeper and more meaningful relationships with consumers. The cohort suggests brands adapt the following:
Neo-consumer landscape: a fluid spectrum where consumers seamlessly navigate the online and offline worlds
○ Real me: lives in the moment and values ​​meaningful in-person relationships, services, and experiences
○ Meta me: craves new forms of expression and escape by experimenting with new technologies and metaverse worlds
Transcend what was: brands must go beyond
○ From Individual to Inter-Collective: inspire consumers to come together and emotionally invest in each other and the brand
○ Beyond trust to factual faith: grant full transparency on product, process and progress
○ Beyond the product towards immersion: provide tools for consumers to creatively express themselves in non-prescribed ways across platforms and worlds
Take away food
To ensure the future success of the beauty industry, businesses must adapt to the changes brought about by the COVID-19 pandemic. Internally, the Great Beauty Reform will have an impact on the future of work for all. Consumers, investors, resources, culture, leadership, and environment must be integrated, interconnected, and interdependent for organizations to thrive, not survive. The FIT Beauty Think Tank's CIRCLE model revolves around the need for companies to remember that employees are human beings with wellness to be prioritized. As such, the ultimate goal of a successful beauty business of the future will be to reform existing outdated ideals and practices and replace them with a human-centered approach. For the beauty consumer, the convergence of emotional tensions and technological advancements has sparked the post-Covid beauty renaissance, creating an urgency for the industry to evolve with the neo-consumer. Brands must go beyond traditional frameworks to form intercollectives, gain factual faith and create Immersions. These actions come together to form the Neo Marketing Model, a new framework that will guide brands to overcome the "Thinking Beyond" challenge to seamlessly reach "Real Me" and "Meta Me" personas across the Neo Consumer Landscape.
About FIT and the Beauty Think Tank
FIT, part of the State University of New York, has been an internationally recognized leader in professional education in design, fashion, business and technology for 75 years. The college offers nearly 50 majors and grants AAS, BFA, BS, MA, MFA, and MPS degrees, preparing students for career success and leadership in the new creative economy. The FIT Master of Professional Studies (MPS) in Cosmetics and Fragrance Marketing and Management (CFMM) program, one of seven graduate programs at FIT's School of Graduate Studies, was developed in collaboration with industry as a leadership development program for exceptional careers. frames. Global luxury companies such as Chanel, Shiseido, Estée Lauder, L'Oréal and LVMH, as well as global consumer packaged goods companies such as Coty and Unilever, nominate talented emerging executives to participate in the two-year program. The CFMM program has become the beauty industry's recognized think tank, producing high-level research presented to industry executives and organizations, and at expert panels, symposia, and forums at universities and the industry. Visit fitnyc.edu/cfmm. For more information about FIT, visit fitnyc.edu.
This year the research was sponsored by Cosmoprof North America, the premier B2B trade show in the Americas, which regularly welcomes students to showcase their research to industry.