Take Sensory Skincare to the Next Level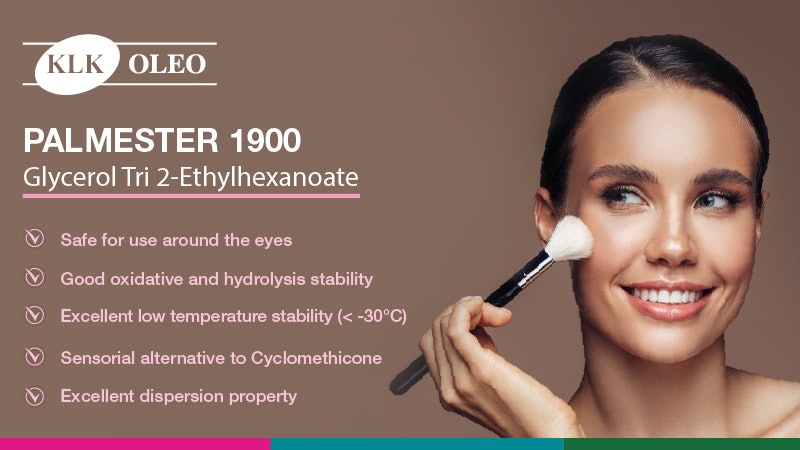 PALMESTER 1900 Glycerol Tri 2-Ethylhexanoate
Take sensory skin care to the next level
In addition to providing basic functionality, the product experience for a consumer is key to building an emotional connection that leads to long-term brand loyalty.
Consumer demands on skin and face care products are changing rapidly, and keeping up with current trends by using ingredients that meet specific criteria is becoming more imperative for cosmetic and personal care formulators.
Introducing PALMESTER Glycerol Tri 2-Ethylhexanoate, an emollient ester oil made from renewable natural resources that imparts dry lubrication, leaving skin feeling elegantly light and non-greasy.
PALMESTER Glycerol Tri 2-Ethylhexanoate is the triester of glycerine and 2-ethylhexanoic acid. It usually responds to the formula [3]:
PALMESTER Glycerol Tri 2-Ethylhexanoate is used in protective makeup formulations providing exceptional skin coverage.
PALMESTER Glycerol Tri 2-Ethylhexanoate also provides pigment wetting properties in color cosmetics and serves as a carrier oil for perfumes.
PALMESTER Glycerol Tri 2-Ethylhexanoate is:
· Safe for use around the eyes;
· Good stability to oxidation and hydrolysis;
· Excellent low temperature stability (
· Sensory alternative to cyclomethicone; and
· Excellent dispersing property.
Performance benefits
· Reduces white marks immediately after application and improves friction in antiperspirant formulations compared to cyclomethicone.[1]
· The sensory properties are comparable to those of antiperspirant formulations containing cyclomethicone.[1]
· Better water retention capacity in multilamellar emulsion tested compared to liquid paraffin and squalane.[2]
Product applications
· Cosmetic Color
· Hair care
· Sunscreen
Example formula

The facial oil formulation includes the use of powerful tocotrienols as a powerful antioxidant and a high amount of well-diffusing triglyceride oils to promote radiant, healthy-looking skin without feeling greasy. Glyceryl Tri 2-Ethylhexanoate improves emollience and imparts lubrication upon application, leaving skin supple, hydrated and nourished.
Learn more about the sustainable ingredients offered by KLK OLEO
References
1. Antiperspirant compositions containing triethylhexanoin; Katherine Ledingham, Kevin Anthony Ormandy, Patent No. USOO9061166B2; 2015
2. J-Beauty-Ingredients exclusive to the European skincare market; N. Subirats; SOFW Journal 06/20, Volume 146
3. Amended Safety Assessment of Triglycerides Used in Cosmetics; cirinfo@cir-safety.org
Disclaimer:
The paid content above was produced and published on behalf of Sponsor. The content provided is generated solely by the Sponsor or its affiliates, and it is the responsibility of the Sponsor for the accuracy, completeness and validity of all information included. Cosmetics and toiletries takes steps to ensure that you will not confuse sponsored content with content produced by Cosmetics and toiletries and governed by its editorial policy.