These Guys Want To Change The Pinoy Men's View On Skincare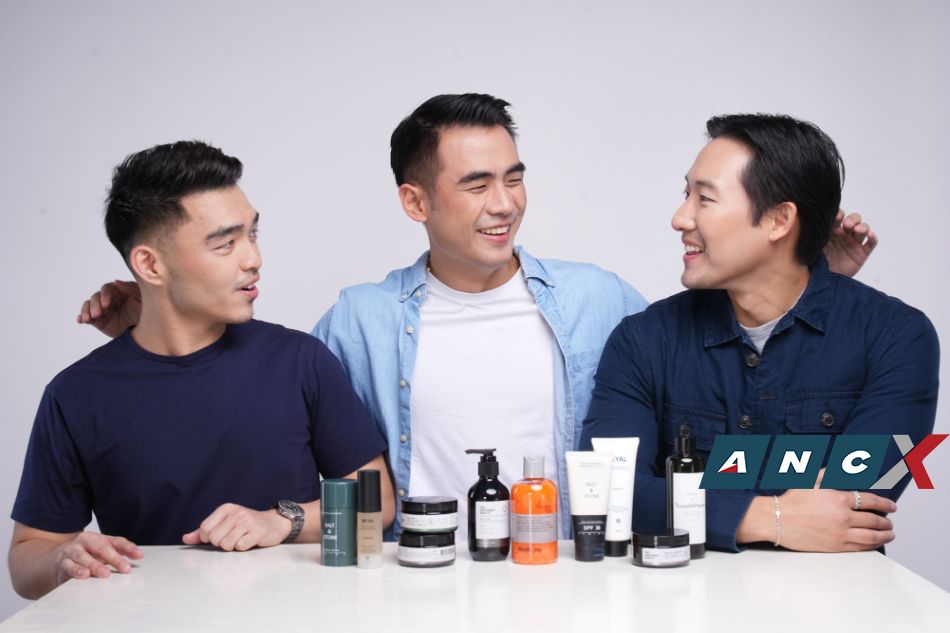 Unlike many women who don't shy away from following a seven- or ten-step skincare regimen, most men prefer a simplified, straight-forward grooming routine. Composed of a few products that would fit easily into a small toiletry bag.
This truth is what lies behind new men's beauty and skincare retailer Doppkit founded by friends Burt Chua, Kenneth Toh and Richmond Chong.
The guys have been friends since their high school days in Vancouver, Canada, but they each pursue different careers. Richmond is dedicated to the contracting and distribution of fire alarm systems. Kenneth runs an indoor cycling studio in San Juan called PERIGON. Burt is engaged in the manufacturing industry, particularly in the packaging of cosmetics and other fast-moving consumer goods.
Kenneth says the idea of ​​installing Doppkit came to them during a conversation. "We were approaching our early thirties and we're starting to notice the differences in our skin," he says. They were based in Vancouver in their younger years, and when they moved to the Philippines, they felt there weren't any brands that really suited their needs. "We were looking for products that would help guys like us proactively take care of their skin."
To put together a curated list of products, they first considered their most trusted skincare brands over the years. "We reached out to them to find out which ones are open to exploring a new market elsewhere," Burt says. Currently, the Doppkit list consists of five brands offering face, body and hair products: Anthony, Reyal, Salt & Stone, Triumph & Disaster and The Groomed Man Co.
Anthony offers a range of cleansing, moisturizing, anti-aging and shaving products. It's popular for its award-winning face wash, conditioning beard wash and ingrown hair treatment.
Reyal claims to combine the best of science and nature, with ingredients such as Dragon's Blood, Tiger Grass and Vitamin E working together to strengthen and protect the skin. Dragon's blood is a powerful and protective antioxidant found in the sap of trees in the Amazon rainforest. Tiger Grass has revitalizing and regenerative properties for the skin. Vitamin E, on the other hand, acts as an antioxidant, helping to protect skin cells from damage.
Salt & Stone, formulated with ingredients derived from the sea, is designed for men with active lifestyles. In its product line, it offers body wash, deodorant, sunscreen, and lotion, among others. "They don't use anything synthetic to get the benefits they promote," Kenneth offers.
Triumph & Disaster combines indigenous ingredients such as Horopito Oil and Ponga Fern Extract blended with scientifically proven and natural ingredients from around the world: Clay from Australia, Jojoba Extract from Mexico and Tamanu oil from Polynesia. The brand offers a range of cleansers, moisturizers, body washes, ointments, toners, eye serums and salt sprays. "This brand is all about rituals. Its products are meant to prepare you for any triumph or disaster that will arise during the day," says Kenneth.
The Groomed Man Co. combines science with sustainable, natural ingredients like jojoba oil, rosemary extract, ucuuba butter, activated charcoal and green tea. The brand offers shampoos, conditioners, face and body scrubs, and moisturizers.
Richmond observes that there remains a misconception among men that skin care is only for women. Kenneth adds that they find it quite difficult to break into the market of men in their 30s and 40s who haven't used skincare for most of their lives. "That's one of the challenges: educating them [about the importance of skincare]says Kenneth.
They may have a slew of products in their online store, but like most men, Burt, Kenneth and Richmond want to keep their own skincare and grooming regimen simple.
What works for Burt
"I use a face scrub and moisturizer from Triumph & Disaster, a body wash from Reyal which is one of our best sellers and sunscreen from Dior. We don't offer the latter in our store," he says.
What works for Kenneth
"I use a cleanser from Triumph & Disasters. At night I use a moisturizer from Salt Stone. Then twice a week I use the Aesop scrub – we don't have that in our store .
What works for Richmond
He uses The Groomed Man Co. cleanser and moisturizer morning and night, and the same brand's facial scrub twice a week. part of their daily ritual. But in addition to realizing the need to take better care of themselves, especially their skin, these young entrepreneurs have also found it can be interesting to learn about new revolutionary products on the market.
Thus, expect Doppkit to continue adding more brands in the future. "We are slowly getting into lifestyle products. Recently we brought in some candles from Salt & Stone," says Burt.
Doppkit will have a pop-up store in Rockwell in October, so guys can check it out and get a chance to sample their product offerings.
To learn more about Doppkit and its product list, visit https://doppkit.co/collectionsor consult their instagram and Facebook accounts.